Last Saturday at Madison's Concourse Hotel during UW-Madison Writers' Institute, Bill Conner and I pitched our creative non-fiction book Abbey's Ride for Life – The Bike Ride That Saved 240,000 Lives, Plus 1.

If you've ever had a job interview, then you have a small inkling of what it's like to pitch your book to an agent. There's the pressure of proving you have what they need and of knowing why you're a good fit for the job, plus the stress of success — if you get the job, your life will change.
But when you pitch to an agent, you're also pitching your book — a 300-page story you're passionate about and have spent years writing, workshopping, editing, and re-writing. And you only have 8 minutes to hook the agent.
I'd pitched both Carpe Diem, Illinois and The Devil Particle to agents before including two of the agents Bill and I would see that day, so I wasn't nervous. But I was feeling the pressure. This was Bill's book — if I screwed it up, I'd be letting him down.
Before Bill arrived, I'd had a full day of helping writers practice their pitches, running the Book Signing and Selling Event, and participating on a panel discussion about marketing. I wasn't as tired as I thought I'd be, but I was worried how Bill would handle being thrown into this crazy literary world.
I had some time to relax so I bought a Diet Coke at the bar and sat in the comfortable hotel lobby waiting for Bill's 4:45 p.m. arrival. Within minutes, Bill texted me he'd had a flat, but was hopeful he'd make it in time. Then he texted: "Just kidding" and walked into the hotel lobby. Honestly, that was the best thing he could have done. I knew I didn't have to worry about him.
READ THE REST OF THE POST to get the scoop about pitching an agent.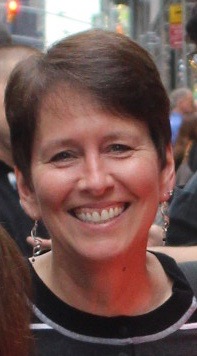 Kristin Oakley's debut novel, Carpe Diem, Illinois, won a 2014 Chicago Writers Association Book of the Year Award, was a finalist in the Independent Author Network 2015 Book of the Year and a runner-up in the 2016 Shelf Unbound Best Indie Book Competition. Its sequel God on Mayhem Street was released in August of 2016. Kristin is on the Board of Directors of the Chicago Writers Association and is managing editor of CWA's The Write City Magazine and The Write City Review.