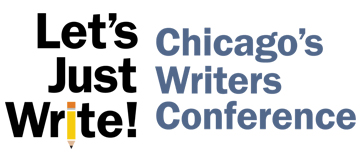 Pitch Sessions 2023
Pitch your book to literary agents and/or traditional publishers.
REGISTRATION FOR PITCH SESSIONS WILL OPEN ON FEBRUARY 1ST.
How Pitch Sessions Work
There are pitching opportunities on Saturday and Sunday of the conference (conference schedule). There is no limit to how many sessions you may register for. Sessions are $20 each. Please review the agents/publishers prior to registering. Keep in mind that each agent/publisher has particular genres/topics they represent (click on letter at left).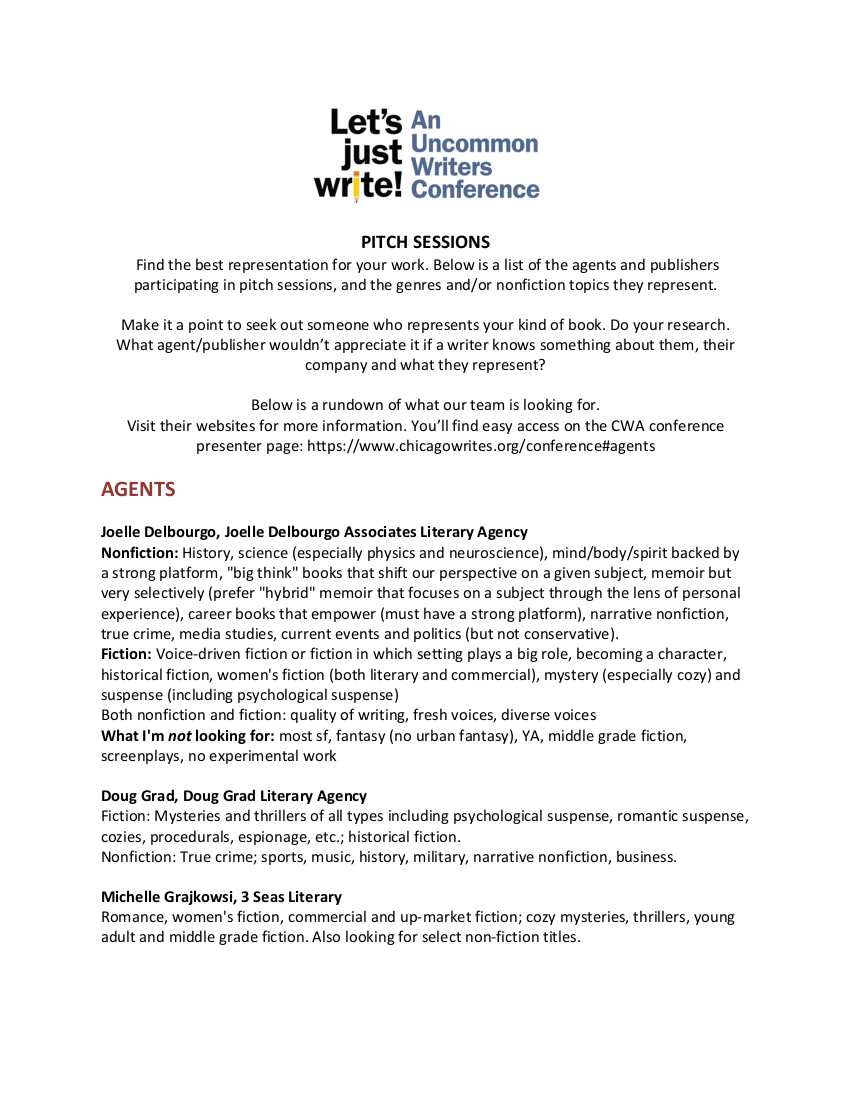 You must be registered for the conference to sign up for pitches.
Each session lasts a total of five minutes. Time will be closely monitored. You will use about two minutes of that time for the description of your book. That will leave the agent/publisher with the remaining time to ask questions and give feedback on your pitch and/or your book project. If a participating agent or publisher finds your pitch compelling, he or she may ask to see your manuscript.
Come prepared with a two- or three-minute description of your finished manuscript.
NOTE: The first session of the conference on Saturday, The Art of Pitching by Jeff Kurz, is an all-conference presentation and will equip you with everything you need to know to make your pitch interesting. Even if you will not be pitching during this conference the information in this presentation will be invaluable as you move forward in your writing career.
Fiction writers: You must have a completed novel manuscript. You are not there to pitch ideas, you are there to pitch a book.
In a few sentences describe where the story is set, who the main character is and the incident the story hinges on. Distinguish your book from what has already been published: how is your book different, why are you the one to write this story? Reference one or two competitive titles; they can help you better encapsulate what your book is about.
If you have an author platform of any kind (blog or newsletter subscribers, social media following, website traffic, etc.), be sure to mention the details during your pitch.
Nonfiction writers: Have a completed book proposal, including a brief overview of the book, chapter outline, author statement/platform and potential market. You do not have to have a completed manuscript but you should have several chapters written. Remember that you need many of the same elements as for fiction: a hook, a good story, a unique angle.
Memoir writers: A completed memoir would be best, along with a book proposal. Be prepared to talk about your hook and why you are writing this story.
It's possible that through this process you may end up with agent representation and a book deal but there is no guarantee. Whether or not that happens there's tremendous value in participating. You'll learn how a book pitch works and what captures an agent or publisher's interest. If they have recommendations for improvement, that's a bonus. This experience will prepare you to continue pitching to other agents/publishers as you move forward in your writing career.
Pitch Session Schedule
Five literary agents and three traditional* publishers will be accepting pitches on Saturday and Sunday. Each session is $20 and you may register for as many as you like, subject to availability. Registration will begin on February 1st.
Please review the agents/publishers prior to registering for these sessions.
Note: *All of the publishers are independent and accept unagented work. All are traditional publishers, meaning they do not charge the author a fee to publish.
The objective of pitching is to present your book as a sellable and successful product. The agent/publisher will provide feedback on which aspects of your pitch were most effective, along with suggestions for improving your pitch. You can modify your pitch for your next session and leave the conference knowing that you're well-prepared to continue your journey toward publication.
How to Participate
Registration for pitch sessions will open on February 1st.
If you are registered for the conference you will receive an email in advance with the link to purchase 5-minute time slots at $20 each. If you are not registered you will receive the link when you complete your registration.
You may choose the agent/publisher of your choice, and as many slots as you would like.
Finally, wise words of advice from Peter Rubio on this process, at the conference and beyond: "Learn your craft BEFORE approaching editors and agents because we are looking to fall in love with something, not looking to reject stuff. That means write and submit, learn from the rejection, and write and submit some more because that's where "success" is born.