Past Winners of the Book of the Year Awards
2020
Traditional Fiction: Valentine by Elizabeth Wetmore
Traditional Nonfiction: From Miniskirt to Hijab by Jacqueline Saper
Indie Fiction: Still Come Home by Katey Schultz
Indie Nonfiction: From Inspiration to Activism by Mary Lang Solinger
Spirit Award: Jennifer Brown Banks
2019
Traditional Fiction: Tiny Americans by Devin Murphy

Traditional Non-Fiction: In Deep: How I survived Gangs, Heroin, and Prison to Become a Chicago Violence Interrupter by Angalia Bianca, with Linda Beckstrom
Indie Fiction: A Dangerous Identity by Russell Fee
Indie Non-Fiction: The Buddha at My Table by Tammy Letherer
Spirit Award: Bill Turck & Kerri Kendall
2018
Traditional Fiction: Poison Girls by Cheryl L. Reed
Indie Fiction: Chuckerman Makes a Movie by Francie Arenson Dickman
Traditional Nonfiction: Tinker to Evers to Chance by David Rapp
Indie Nonfiction: Redlined: A Memoir of Race, Change and Fractured Community in 1960s Chicago by Linda Gartz
Spirit Award: George Rawlinson, author, publisher, Chicago Writers Association Board of Directors
2017
Traditional Fiction: The Virginity of Famous Men by Christine Sneed
Indie Fiction: out the door! by M.L. Collins
Traditional Nonfiction: Algren: A Life by Mary Wisniewski
Indie Nonfiction: Of This Much I'm Sure by Nadine Kenney Johnstone
Spirit Award: Suzy Takacs, owner of The Book Cellar and supporter of Chicago writers and the literary community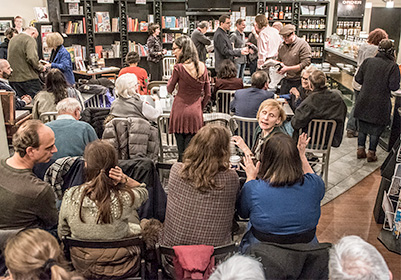 2016
Traditional Fiction: The Mirror Thief by Martin Seay
Non-Traditional Fiction: A Bitter Pill to Swallow by Tiffany Gholar
Traditional Nonfiction: The Defender: How the Legendary Black Newspaper Changed America by Ethan Michaeli
Non-Traditional Nonfiction: Hugh Hefner's First Funeral and Other True Tales of Love and Death in Chicago by Pat Colander
Spirit Award: Donald G. Evans, founder and executive director of the Chicago Literary Hall of Fame
2015
Traditional Fiction: Old Heart: A Novel by Peter Ferry
Non-Traditional Fiction: The Wet Nose of Danger by James Finn Garner
Traditional Nonfiction: Empire of Deception: The Incredible Story of a Master Swindler Who Seduced a City and Captivated the Nation by Dean Jobb
Non-Traditional Nonfiction: a different kind of same by Kelley Clink
Lifetime Achievement Award: Karen Thomson, founder and director of Literature for All of Us
2014
Traditional Fiction: The Hundred-Year House by Rebecca Makkai
Non-Traditional Fiction: Carpe Diem, Illinois (A Leo Townsend novel) by Kristin A. Oakley
Traditional Nonfiction: Meaty by Samantha Irby
Non-Traditional Nonfiction: Famous Ski Hills in Wisconsin by Scott Jacobs
2013
Traditional Fiction: Good Kings Bad Kings by Susan Nussbaum
Non-Traditional Fiction: 30 Days to Empathy, by The 31 and Jay C. Rehak (Editor)
Traditional Nonfiction: We Hope You Like This Song by Bree Housley
Non-Traditional Nonfiction: Any Road Will Take You There by David W. Berner
2012
Traditional Fiction: The Temple of Air by Patricia Ann McNair
Non-Traditional Fiction: Coming Out Can Be Murder by Renee James
Traditional Nonfiction: Whiskey Breakfast: My Swedish Family, My American Life by Richard C. Lindberg
Non-Traditional Nonfiction: Grieving Dads: To the Brink and Back by Kelly Farley
2011
Traditional Fiction: Portraits of a Few of the People I've Made Cry by Christine Sneed
Non-Traditional Fiction: Honk Honk, My Darling: A Rex Koko Private Clown Mystery by James Finn Garner
Traditional Nonfiction: Three Wishes: A True Story of Good Friends, Crushing Heartbreak, and Astonishing Luck on our Way to Love and Motherhood by Pamela Ferdinand, Carey Goldberg and Beth Jones
Non-Traditional Nonfiction: Giants in the Park: A Guide to Portrait Statues in Chicago's Lincoln Park by Krista August
Spirit Award Past Winners
2019
Bill Turck & Kerri Kendall, talk-radio show hosts bringing celebrity guests and up and coming artists and writers, helpful how-to's, and more from around the world.
2018
George Rawlinson, longtime CWA board member, author, publisher, and tireless advocate for Chicago and its rich literary tradition; generous supporter of our writing community; inspiration to all who have been touched by his warmth and kindness and generous, loving spirit.
2017
Suzy Takacs, owner of The Book Cellar and tireless advocate for Chicago literature and the people who create it.
2016
Donald G. Evans, founder and executive director of the Chicago Literary Hall of Fame
2015
Karen Thomson (Lifetime Achievement Award), founder and director of Literature for All of Us