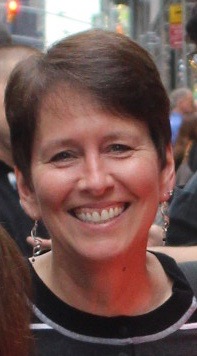 Kristin Oakley, co-founder of In Print and board member of the Chicago Writers Association, has authored two books, worked on various publications, conducts writing workshops, and is currently working on a series of young adult fiction and a creative nonfiction collaboration. She also runs a newsletter on her website detailing her writing adventures and literary experience.
Q: What is your writing process?
A: I'm a pantser: I generally write by the seat of my pants. I don't know much about the story, other than a basic idea, until I actually write it.
Q: How much time do you spend researching, planning, or world-building before you begin writing?
A: Generally speaking, I don't do any research, planning or world-building before I begin writing. However, writing a book this way takes me years, so I'm trying to shorten that time. One thing that has helped is Alan Watt's 90-day Novel: Unlock the Story Within. It's a great combination of brainstorming story ideas and implementing structure while writing the first draft. It's helped me reduce the time it takes to get that tricky first draft written.
Q: Describe your writing space. Do you have any favorite writing spots?
A: I have lots! At home, I like my yellow couch in my living room or out on my porch under my bright red umbrella. I'll meet friends at coffee shops in Madison or the Verona Public Library (voted the best in the state of Wisconsin). My all-time favorite spot is the UW-Madison Memorial Union Terrace along the shore of Lake Mendota; it's one of my favorite places in the world.
Q: What made you personally decide to become involved in the writing community?
A: I knew that I knew nothing about writing novels, though I'd written articles, editorials, and judicial decisions (I was a lawyer for half a second), and I wanted to learn as much as I could. I joined four other women (Mary Lamphere, Kathleen Tresemer, Pat Noel, and Carol Ahrens) to form the professional writing organization In Print. We founded In Print because we wanted to develop our craft. We knew nothing about starting a professional organization, so we sought out the Chicago Writers Association for guidance and became an affiliate. Because I was the president of In Print, I was invited to join CWA's board. Both organizations have been invaluable to me as a writer. I know I wouldn't have gotten Carpe Diem, Illinois and God on Mayhem Street published without their help and support.
Q: What, in your opinion, establishes someone as a "writer"?
A: A writer is someone who is compelled to write, as if writing were an addiction.
Q: Do you have an all-time favorite book that you just can't forget about?
A: Not one, but several and I'm always adding to the list. Nonfiction - Ishmael by Daniel Quinn and The Zen of Motorcycle Maintenance by Robert M. Pirsig. Fiction - The Poisonwood Bible by Barbara Kingsolver, Pride and Prejudice by Jane Austen, 11/22/63 by Stephen King, To Kill a Mockingbird by Harper Lee, The Harry Potter series by J. K. Rowling, The Firm by John Grisham, The Hunger Games by Suzanne Collins, A Man Called Ove by Fredrik Backman, and, most recently, Eleanor Oliphant is Completely Fine by Gail Honeyman.
Q: What special projects have you worked on?
A: In the past, my major project was running In Print. I also helped organize our Writers Block Parties and judged the First Chapter Contests. Now both publications keep me busy and I pitch in where needed.
Q: What is your role within the Chicago Writers Association?
A: I'm the managing editor of our online magazine, The Write City Magazine, and our paper journal, The Write City Review.
Q: What is your favorite moment of being a CWA board member so far?
A: There are so many! When we decided to publish The Write City Review, when we agreed to pay writers for their work in The Write City Magazine, when we hosted our first conference and added writing workshops, there's so much! I am so lucky to be able to work with this incredibly talented, driven, and passionate board and to be a part of this amazing organization.
Kristin Oakley is a Chicago Writers Association board member and the managing editor of The Write City Magazine and The Write City Review. She is also a UW-Madison Division of Continuing Studies writing instructor. Kristin's debut novel, Carpe Diem, Illinois, won the 2014 Chicago Writers Association Book of the Year Award for non-traditionally published fiction. Its sequel, God on Mayhem Street, was a finalist in the Winning Writers 2018 North Street Book Prize. Kristin is collaborating on a creative non-fiction project, Abbey's Ride for Life: The Bike Ride That Saved 240,000 Lives, Plus 1, with Bill Conner and is seeking representation. She's also writing a young adult dystopian trilogy called The Devil Particle Trilogy and has a bi-monthly newsletter about her writing life.