There's a terrific website for writers called Writer Unboxed which includes articles on the craft and business of fiction written by bestselling authors and industry experts. Their newsletter is great, too.
The highlight for me is a regular column by Ray Rhamey called Flog a Pro: would you pay to turn the first page of this bestseller? Ray includes the first page of a New York Times bestselling novel but omits the book's title and name of the author. Once you've read it, you decide if you'd turn the page. He then tells you what he'd do and why. It's so much fun!
So, imagine my surprise when the man I was talking to during the cocktail hour at the Chicago Writers Association's Let's Just Write! An Uncommon Writers Conference was Ray Rhamey! Here's something you may not know about me — one of my big failings is I geek out when I meet a celebrity. Yep, my voice got really high and squeaky when I met Ray. Luckily, I didn't scare him off.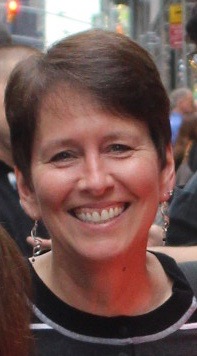 Kristin Oakley's debut novel, Carpe Diem, Illinois, won a 2014 Chicago Writers Association Book of the Year Award, was a finalist in the Independent Author Network 2015 Book of the Year and a runner-up in the 2016 Shelf Unbound Best Indie Book Competition. Its sequel God on Mayhem Street was released in August of 2016. Kristin is on the Board of Directors of the Chicago Writers Association and is managing editor of CWA's The Write City Magazine and The Write City Review.