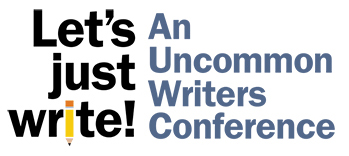 Let's Just Write! An Uncommon Writers Conference
March 16–17, 2019
Saturday, March 16
8:30 – 9:30
Registration/Breakfast
(breakfast is included in conference price)
9:30 – 10:45
Full Conference Session
Writing and Publishing and Getting Out of Your Own Way or How to Hack this Conference
Writing a book means some days you'll be filled with confidence and the rich flow of ideas and skill, and other days you will be in the slums of insecurity and indecision. The trick to getting the manuscript finished, pitched, published and in book stores next to your favorite authors is to find the balance between elation and despair, somewhere between I can do this and hell no, I can't! Ann Garvin has spent time on both sides and will help motivate and inspire you to find in the conference what you need to be successful.
11:00 – 12:15
Session 1
Talk is Cheap! Good Dialogue? Priceless!
Go ahead: open your characters' mouths and let the words fall out—on the first draft. Letting them talk is a wonderful way to get to know them. But well-crafted dialogue carries greater potential. From a quick overview of mechanics, we'll move into the fun stuff: analyzing masterful dialogue with an eye toward the ways in which it contributes to character development, pacing, setting, atmosphere and more.
Session 2
Beyond First, Second, & Third: Effective Use of Point of View
Though it's often presented as little more than a convenient way to classify works of fiction, point of view profoundly affects every aspect of narration. When a piece of writing isn't working, an adjustment to the point of view is often the best fix. In this session we'll look closely at how point of view functions in several established and recent works, and discuss strategies for managing it in our own writing.
12:15 – 1:30
Lunch (included in conference price)
with presenters at the tables to network with attendees
1:30 – 2:45
Session 1
Fiction Panel — Pick Their Brains
Patricia Ann McNair, Christine Sneed, Cyn Vargas, moderated by Randy Richardson
Session 2
Nonfiction Panel — Pick Their Brains
Eric May, Kathleen Murphy Skolnik, Greg Borzo, moderated by Marcie Hill
3:00 – 4:15
Session 1
Persons of the Drama: Development of Fictional Characters
In fiction, one of the things readers want from story is to see what affect the events of the story have on the people involved. The essential question is how do we develop and present "dramatis personae" (persons of the drama) interesting enough to hold readers' attention and interest? Eric Charles May will offer examples and writing approaches for developing and writing engaging persons of the drama for fiction.
Session 2
Slipping Into Your Characters' Minds
As writers, our work has to compete with the visual fare that's available everywhere: Netflix, YouTube, smart phone games… Seems daunting, but the fact is, the written word offers something no other form of storytelling does: the ability to immerse readers into your character's most intimate thoughts, perceptions and emotions.
In this session we'll draw 10 lessons from the 2017 short story "Cat Person," by Kisten Roupenian, published in the The New Yorker and easily the most talked-about story of the year.
You'll learn to emulate the story's adept and sensitive treatment of its characters' perceptions through clear examples and exercises, and how to translate those skills to all genres.
4:30 – 5:45
Full Conference Session
5:45 – 6:45
Book signing/Networking/Cocktails
Warwick Allerton Hotel
6:45
Dinner (Included in conference price)
Conversation with award-winning author Christine Sneed
(In conversation with author Dan Burns)
Sunday, March 17
9:00 – 10:00
Breakfast (breakfast is included in conference price)
10:00 – 11:15
Session 1
The Writer's Road Trip: How to Use the Journey as a Vehicle for Narrative
The journey is one of the most basic narrative devices in American storytelling. It can create physical movement, encourage character introspection and development, and build the dramatic tension and release needed for facilitating plot. In this workshop, Columbia professor Patricia Ann McNair demonstrates the structure in literary models, then conducts an extended writing activity for the group. The session applies to writers of short or long fiction as well as creative non-fiction.
Session 2
Edge of Your Seat: A Cliffhanger How-To Workshop
Successful books grab the reader's attention from the first line to the last. How do you make your book that compelling? Cliffhangers! In this workshop we'll analyze popular novels and discuss the techniques these authors use to keep us reading. Additionally, you'll learn how to implement those techniques in your own manuscripts through a variety of writing exercises.
11:30 – 12:45
Session 1
The Fantastic Mongrel: Getting Started on Prose Poetry
Prose poetry is far more than just verse without line breaks. Through brief in-class readings you will see how the prose poem represents an exciting intersection among nonfiction, fiction, drama and poetry. After discussing how these works are structured you will have the chance to do in-class exercises, and will walk out with a rough draft of a prose poem that you can continue to hone, as well as with a new sense of how to bring innovation to writing of all lengths and genres.
Session 2
Tips for Novelizing True Events
Many of us write as a way of delving deeper into issues we've experienced in our everyday lives. Fiction gives us the freedom to do so without constraining us to true events as well as the tools to make our stories engaging on a number of levels. But predictable pitfalls abound. Here's how to steer clear of them.
12:45 – 1:45
Lunch (on your own)
1:45 – 3:00
Full Conference Session
No-Fear Revision: From Panic to Publication
Revision can be intimidating and grueling, but without it, your chances of publication plummet to near-zero. In this session, we'll provide a revision-in-layers approach and a step-by-step guide for the process to make it less intimidating and more productive.
3:15 – 4:30
Session 1
I Bet You Think You Know What Your Book is About
If someone asks what your book is about can you explain it in one sentence that tells who your protagonist is, what they want, what's in their way and what the over-arching theme of the book is?
Ok, then do it, and bring it to this session to test it on a pro.
If you're having trouble doing this, and many of us are, no problem. Ann Garvin will show you how. You'll be surprised how being able to do this one, seemingly simple, thing just might be the key to getting your project on track and finished, and in the hands of the right people.
Session 2
Crafting a Killer First Page
The first page of a manuscript is the most critical page to an agent or an editor, or a reader. It has to truly compel the reader to turn the page. Many rejections happen after the first paragraph because the first page foreshadows craftsmanship and storytelling issues in the rest of the book. In this interactive "critiqueshop," we will read first pages (names removed) submitted by participants prior to the workshop to learn analytical skills that you can apply to your own writing. Workshoppers vote on whether or not they would turn the page to read more, and, along with the presenter, give reasons why.
To have your first page critiqued in the workshop, email the whole prologue or first chapter as a document attachment (no PDFs, please) to ray@rayrhamey.com no later than March 10.
4:45 – 6:00
Let's Just Read!
CWA's First-ever Live Lit Event and cocktails
Moderated by Kristin Oakley
(Cash bar)
CLICK HERE to send your submission - you will have 2 minutes to read (no exceptions), approximately 360 words. Participation will be limited to the first 27 people.

CLOSE