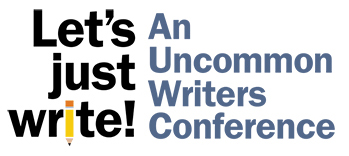 Let's Just Write! An Uncommon Writers Conference
March 21-22, 2020
SATURDAY, MARCH 21, 2020


8:30 – 9:30
Registration / Breakfast (included in conference price)
9:30 – 10:45
Welcome to the conference - Samantha Hoffman, Conference Director
Keynote address from best-selling author, Elizabeth Berg
11:00 – 12:15
Session 1
The Importance of Place in Storytelling
Place and character are equal partners in storytelling. Author and historian Dominic Pacyga will use Chicago's neighborhoods as examples of setting the scene and enriching the story. How does physical space impact individuals and their responses to life's trials? Applicable for fiction and nonfiction writing.
Session 2
Expressions in Flash Forms
Flash fiction, mini-memoir, prose poems, short-shorts, palm-of-the-hand pieces: these are a few of the wide variety of brief prose forms participants will study and attempt. Besides reading and writing these short pieces, participants will get information on publications that solicit and specialize in these forms.
12:15 – 1:30
Lunch (included in conference price)
1:30 – 2:45
Session 1
Session 2
How to Get to Meaningful Memoir Material
The strongest memoir writing is as much about the people in a memoirist's life as it is about the memoirist, the author drawing from family, school, work, cultural, and other meaningful life experiences. This session will present approaches and writing exercises for getting writers of all ages to the widest possibilities for strong memoir story and voice.
3:00 – 4:15
Session 1
Revise and Edit Like a Pro
We all work differently; some outline, some just jump in, but one thing is true for all of us: revision and editing make all the difference.
Session 2
What Writers Can Learn from Sports Psychology
Tim Storm and Ann Garvin
Training for athletic competition is mostly a thankless daily grind toward a goal with no guarantee of success. Sound familiar? In this session, we'll examine how sports psychology can help writers deal with burnout and anxiety. What kind of mindset can help us be persistent when we face critique and rejection? What sorts of daily habits will help us keep at it?
4:30 – 5:15
Session 1
How to Get Free Publicity Panel Discussion Rick Kaempfer, moderator
For this session, former radio producer-turned-author Rick Kaempfer has assembled Chicago radio and television producers to discuss what it takes for an author to get booked as a guest in Chicago. How do you tailor your pitch to the show? What are the dos and don'ts of a successful pitch? Attend this session to glean insider tips that will help you promote your project.
Panelists: Jason Marck—WBEZ Radio, Jeff Hoover—WGN-TV and Jasmine Cooper—WGN Radio
Session 2
Dialogue: Knowing When to Speak and When to Shut Up in Your Fiction, Nonfiction, and Poetry
In this interactive workshop we'll tackle speaker tags, realistic vs. great dialogue, swearing in fiction, when to summarize and when to present it directly. And why you're never, never, almost never going to find a great opening line of a story that starts with dialogue. Bring an example of a few lines of your original dialogue.
5:45 – 6:45
Cocktails and Networking
6:45
Dinner (included in conference price) - Warwick Allerton Hotel - Grand Ballroom (Tip Top Tap)
LET'S JUST CHAT! with award-winning author Jacquelyn Mitchard, in conversation with best-selling author Ann Garvin
SUNDAY, MARCH 22, 2020


8:45 – 9:45
Breakfast (included in conference price)
9:45 – 11:00
Session 1
Creative Techniques to Keep Those Ideas Flowing
Bring some blank paper and your imagination. Brendan will share some of the exercises and techniques he has successfully used himself in co-writing his novel "The Living Wills" and which he has developed over 20 years of helping writers to generate more creative ideas and get through blocks. This is an active workshop with practical and practicable ideas.
Session 2
Benefits of Critiquing
Critique partners and groups are some of the most effective tools writers have to polish and complete their projects. Join us in this workshop as we learn how critiquing can improve our work and enable us to network with other writers. We will explore the benefits of both receiving and giving critiques, learn to let go of our defenses when we're in the hot seat, evaluate how to write an effective critique, understand what to look for in a critique group or writing partner, and connect with other writers to form your own group.
11:15 – 12:30
Session 1
Session 2
12:30 – 1:45
Lunch on your Own
1:45 – 3:00
Session 1
Tension on Every Page
Tension on every page, they say. But that's not quite enough. This workshop offers an examination of tension that keeps readers engaged at the page level and beyond.
Session 2
Editing is not Optional
Your manuscript is finished; you used spellcheck, your mother proofread it for you, you typed The End. So it's ready to publish, right?
Wrong.
In this session you'll learn why you cannot edit your own work and why you need a professional, objective editor in your writing process. International award-winning author Toneal M. Jackson will explain the different types of editing and how to determine which one you need. She'll also give you tips on how to interview an editor BEFORE you hire one.
3:15 – 4:30
Full Conference Session
Publishers Panel
John Manos from Amika Press, Rick Kaempfer from Eckhartz Press, Emily Victorson from Allium Press and Jerry Brennan from Tortoise Books
Shawn Shiflett, Moderator
4:45 – 6:00
LET'S JUST READ! CWA's Live Lit Event with Kristin Oakley
CLOSE