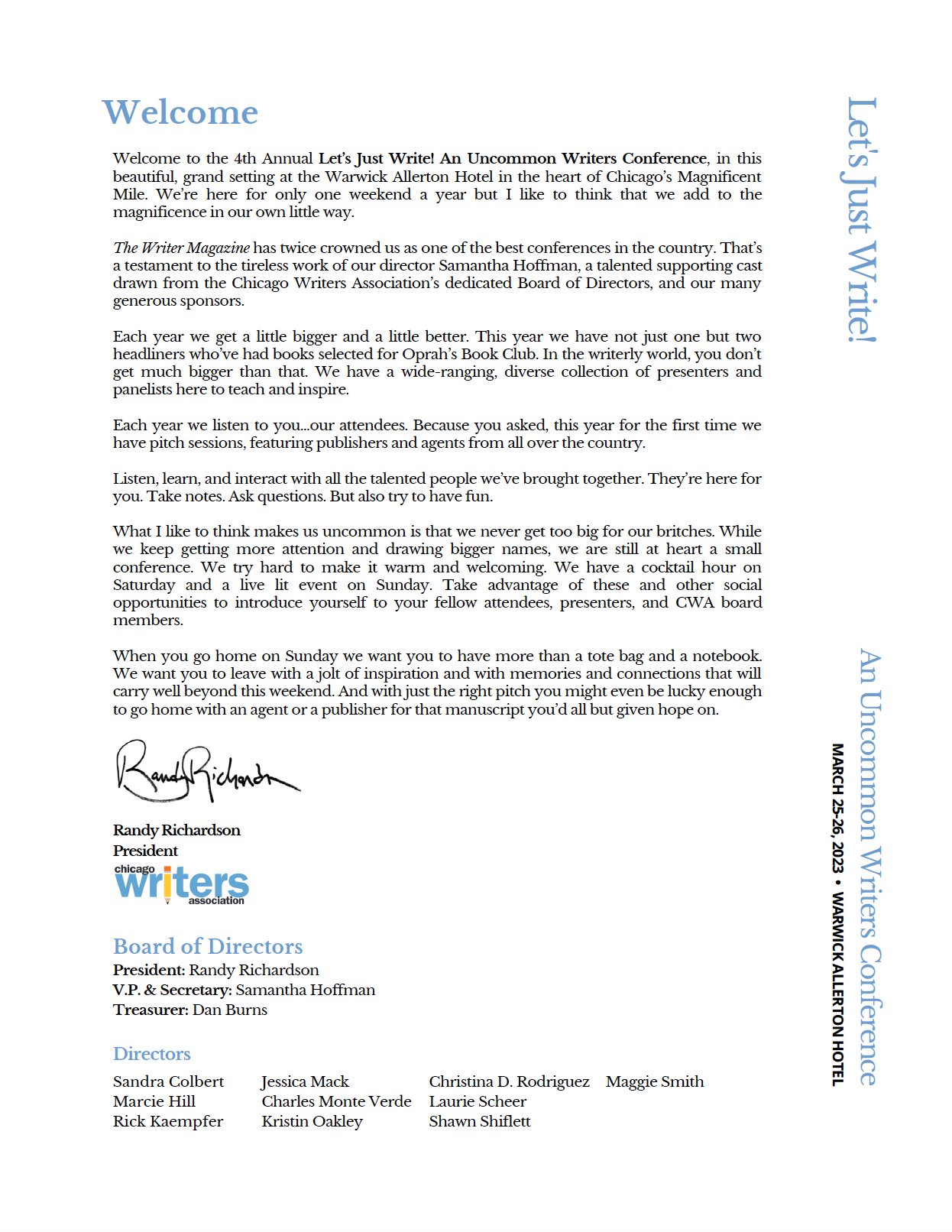 In his welcome letter in the 2023 Let's Just Write! conference program CWA president Randy Richardson ended with: "When you go home on Sunday we want you to have more than a tote bag and a notebook. We want you to leave with a jolt of inspiration and with memories and connections that will carry well beyond this weekend. And with just the right pitch you might even be lucky enough to go home with an agent or a publisher for that manuscript you'd all but given up hope on."
There were eight agents and publishers at the conference, our first year to have pitch sessions, and it was a smashing success. I know this because everyone told me so; the agents, the publishers, the registrants doing the pitching.
I'm sure there are many success stories, but this is one I heard about this week, and we couldn't be more excited for both of you.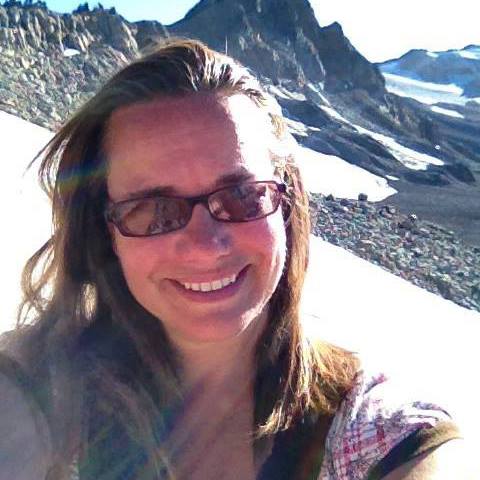 Amy Klco was one of the lucky ones to go home with an agent: Tina P Schwartz, founder and agent at The Purcell Agency.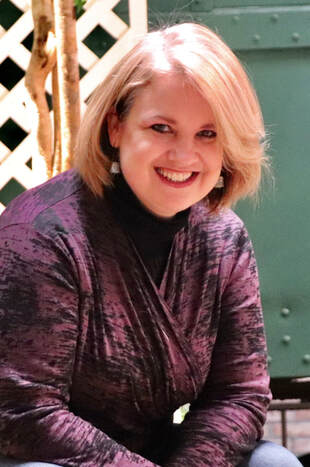 Here's what they said:
Amy: The Chicago Writers Association conference was the first writer's conference of this type that I have been to, but I can't imagine anything better! There was no doubt that everyone there was there for the same reason--the love of the written word. The size of it was just right--big enough to attract writers from all over but small enough to feel comfortable.
In fact, I was able to feel so comfortable that on Sunday morning, before breakfast was ready, I was able to have a wonderful chat with one of the visiting agents, Tina P. Schwartz. By the end of that conversation, I felt like I had made a new friend. The best part was when that new friend called me less than a month later, saying she had read through my manuscript and wanted to offer me representation! A huge thank you goes out to the people of CWA for providing the opportunity for this to happen!
Tina: The CWA conference was such a joy to attend that I joined the organization the minute I got home! I was there to speak and take pitches for my Literary Agency, but made a handful of really great friends while I was there. And, oh the talent! I've been reading through lots of manuscripts and proposals, and am so impressed with everyone's work.
Before the conference luncheon, I sat at a small table with a couple gals, and that's when I met Amy. We shared some super-personal stories, like we had been friends forever. I asked her to submit to me, and after reading her fantastic manuscript, I knew I had to offer representation ASAP! I'm happy and proud to say she accepted my offer and is now an author rep'd by The Purcell Agency. Thanks to the Chicago Writers Association for making this introduction happen.
Who knows, maybe next year will be your year. SAVE THE DATE: March 22-24, 2024.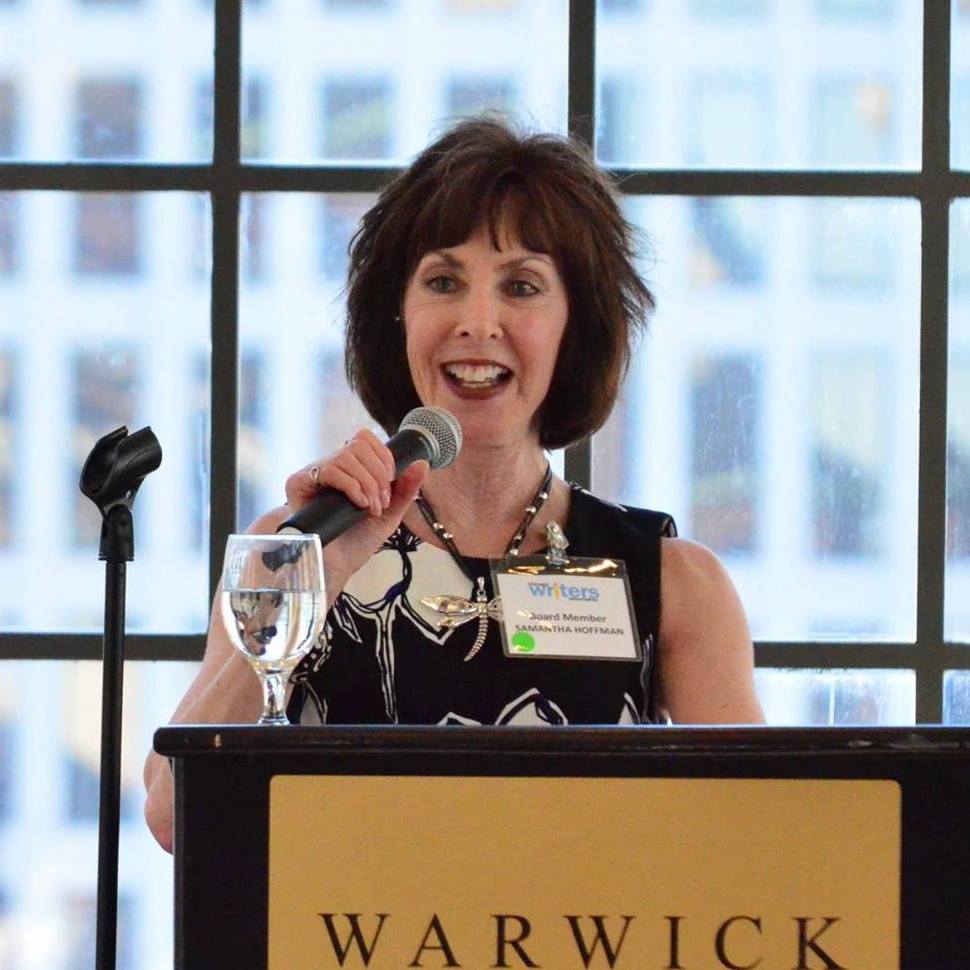 Writer, editor, artist, personal assistant, private chef, runner (8-time marathoner), film and theatre buff, traveler… Author of What More Could You Wish For (St. Martin's Press).
V.P. of the Chicago Writers Association, Executive Director of Let's Just Write! An Uncommon Writers Conference.
Visit me at www.samanthahoffman.com
Read my latest short story, Only One Syllable, published by Hypertext Magazine.
Commenting is not available in this channel entry.