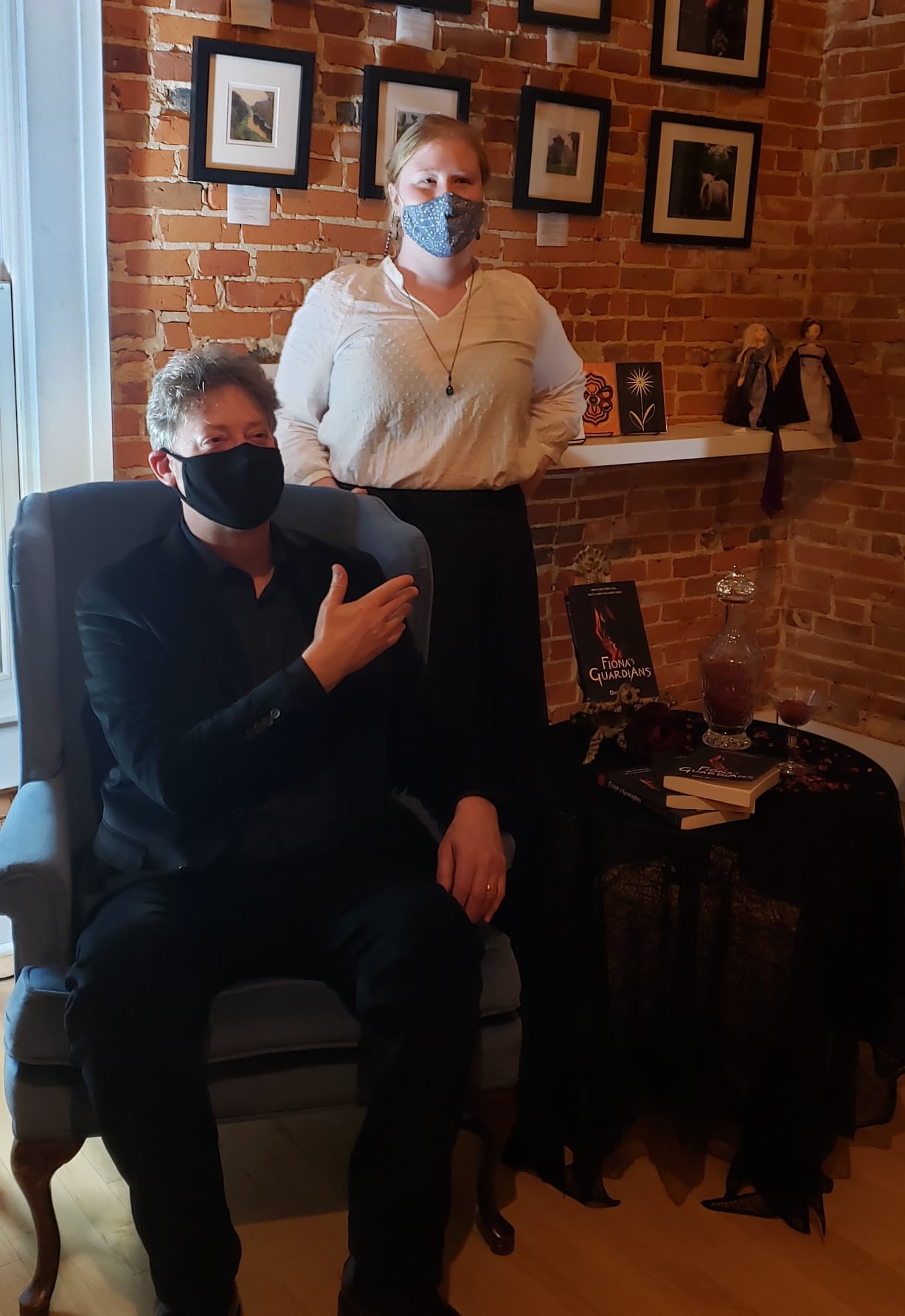 Recently, fellow authors asked me for details about the now 19-month promo campaign for my vampire novel Fiona's Guardians. They saw me reading while masked at author events, they saw photos of my book in the hands of various booksellers, and there was something about a theater company adapting my novel. Some thought whatever I'm doing might work for them. What follows assumes you will view promotion as a full time job with all that implies for family life and works-in-progress. Everything below is based on my experience as an un-agented author published by a small, traditional press but it can apply to those who self-publish. I didn't set out to win a Pulitzer or National Book Award. My goal was sales and introducing my book to new audiences in other media.
Still with me? Let's dive in.
Publish excerpts of your book first. Writing a book can feel like a steep uphill climb with no obvious reward in sight. I recommend setting mile posts where you can celebrate occasional victories. Try publishing a few chapters as stand-alone pieces, as short stories. I wanted to get my stories published in literary journals which involved submitting and waiting. You might decide to skip the gatekeepers and excerpt your book on sites like Wattpad. Whichever route you take, pitch your shorter pieces to book bloggers or other reviewers. Favorable reviews are further evidence that your longform project has potential. A handful of reviewers gave high marks for my first short story, published in Crack the Spine, and wrote they were interested in reading more. I made sure to keep in touch with them on social media, remembering their birthdays, etc.
Start your campaign while the ink is wet. You just signed a deal with a publisher -- announce it to the world! Take screenshots of the document that are safe to share but contain the letterhead, and circulate these along with photos of your publisher plus links to their website. The contract for Fiona's Guardians was signed May 24, 2020, with a release date of October 1. In between, I worked to increase my social media connections. The most fertile hunting ground was Facebook groups for fans of vampires and all things goth. I friended as many people as the algorithms allowed and started creating awareness about my forthcoming book.
Ask for a choice of book covers. My publisher and I had a friendly argument about two examples he designed. Finally, I said, "Let the people decide!" There was nothing scientific about it. We put the covers side by side on Facebook, Twitter, and Instagram and let folks choose. The verdict was overwhelmingly clear. This turned out to be great engagement because those voting became emotionally invested in their selection. This was about four months before the release date.
Reconnect with reviewers. Remember those book bloggers I mentioned? I informed them my book was coming and asked if they could fit in a review before Halloween. All said yes and one even agreed to do a cover reveal a few days before pre-orders opened. So I knew where to send advance copies. I also sent one to the Chicago Writers Association's Windy City Reviews and selected a reviewer who liked vampire stories. Her article in Windy City Reviews came out a month before the release date and it was fantastic. Starting on publication day and up to Halloween I had five more reviews which I shared on all my platforms. Sales for that first month made my publisher very happy.
To blog or not to. Conventional wisdom holds that authors must publish regular blog articles to build (or at least maintain) an audience. Here I'll play the contrarian. Weekly or monthly blogs may help if you write compelling articles (and I'm hoping this one meets that standard), but let's face it, writing blogs that are consistently share-worthy is hard and it only takes one or two weak pieces to erode your fan base. Allow me to suggest another way to spend your time…
Pitch all the bookstores. And I mean every indie store listed in NewPages.com that sells new books. Indie shops are your best chance because the owners and staff are passionate about books – plus they're more flexible about the titles they can order compared to chains. Starting in June of this year, I sent thousands of emails, literally thousands, to bookshops in the US and UK, asking if they'd stock my novel. Each email contained that Windy City Reviews link I shared above. In all, about 20 shops responded saying they added my book to their inventory, which doesn't sound like much when I remember all those hours of emailing. But what I got in return amounted to social media gold. Here's what happened: I asked each store owner to send pictures of staff holding my book. Some were reluctant to send photos with people, opting for display pics. These were fine but nothing compared to the engagement I got from shots of young, smiling booksellers holding my novel. These images generated more comments and more shares than anything else I posted. When it comes to promo, nothing works like the power of people.
Get adapted. This may be the hardest to achieve but it can lead to a big payoff in terms of promotion and sales. Somewhere there's an acting company or young filmmaker looking for original material. Find out who they are and friend them. I was lucky to have a co-worker who acts in a professional theater company. This is how my novel Fiona's Guardians got adapted for the Mysterious Journey podcast. The company, Artists' Ensemble Theater, did a top-shelf job with the production and performance and once again I had gold to share. This podcast, adapted by playwright Margaret Raether, is free and available everywhere. I've been sharing heavily since it published Oct. 12 and a month later, I'm told it has well over a thousand downloads. That's more than a thousand people hearing the words, "From the novel by Dan Klefstad…"
Is it a breakthrough moment? Hard to tell. But third-person references are your clearest sign that you're moving the needle. Work to move it further.
Capitalize on your success. Everything you've read here involves creating situations where you can share something really cool on as many platforms as possible. If you are lucky enough to have an adapted version of your book, find ways to get further adaptations. In my case I'm looking for a young filmmaker to direct a movie based on my novel. We'll see how that goes. But no one in theater or film will take you seriously if you're not out there showing the world what you do.
Write the next book. This advice must seem laughable when you realize that half of what I'm suggesting would push away all your writing time. I'll admit, I hardly wrote during the last year and a half, which makes me wonder if I've morphed irreversibly into something other than a writer. Was it worth it? Sales have been okay. The podcast adaptation is a big victory, but I can't quite prove it's a result of my campaign. As I compose this in mid-November it seems natural to set a date to sunset heavy promotion and begin that next book. A question looms: Can a writer who goes all-in to promote his writing remember how to write? The day I hope to be an author again is January 1, 2022. Please send good vibes.
Be prepared to do it all again. Hopefully, your next book will get published in good time and the bookstores and reviewers you worked with before will again be interested. If the gods are really smiling, a film or TV series might emerge. This may sound like a pipe dream but we've all learned that nothing in our profession is certain except our dreams. We just have faith that our ideas and creations will find an audience and that we'll make a little money to justify the countless hours we invest. What a strange vocation. Almost as weird as being a promoter.
It's up to you to decide how much of my advice to take. But I'm done publicizing for a while so don't ask if I'm for hire. Besides, no one knows your book like you do. So get out there and sell it.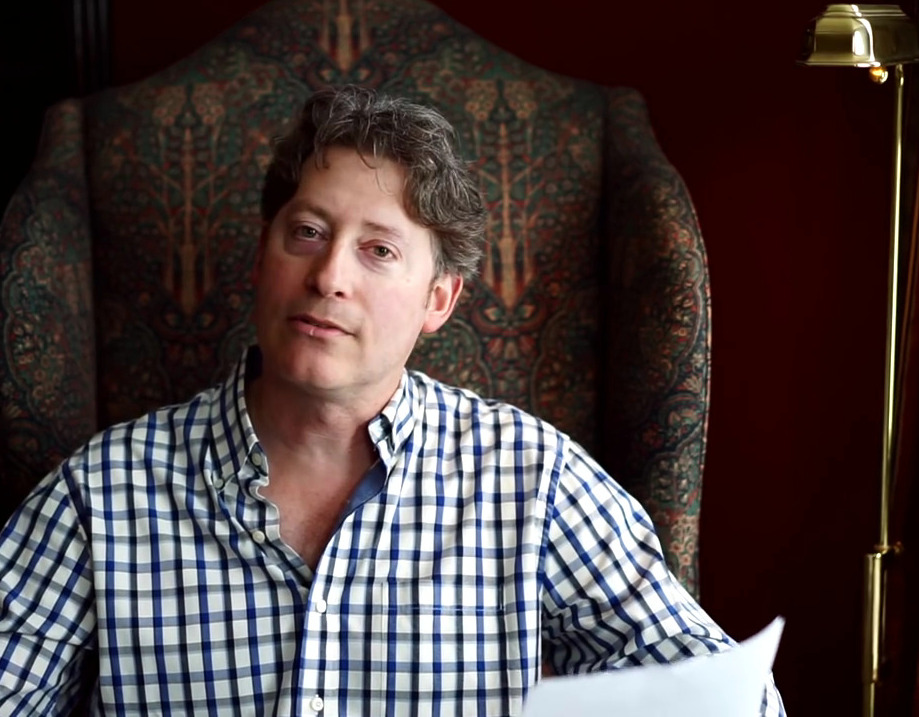 Dan Klefstad is a longtime radio host and newscaster at NPR station WNIJ. His latest novel, Fiona's Guardians, is about humans who work for a beautiful manipulative vampire. The book was praised by the Chicago Writers Association's Windy City Reviews, which likened his words to "tiles in an intricate and elaborate mosaic." Klefstad's novel started as a short story, "The Caretaker," published by Crack the Spine in 2017. It was later adapted by Artists' Ensemble Theater for their Mysterious Journey podcast. He writes in DeKalb, Illinois.
Commenting is not available in this channel entry.