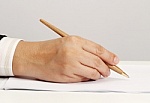 April marks National Poetry Month. In tribute, here are a few selections for your reading pleasure.
A TRIBUTE TO SINGER JILL SCOTT
U
Make notes gloat
Each time
You send them into the universe
Proud to be
The medium
By which you move
So many---
Privileged
For their part,
In the joy
You create.
(C) 2006 Jennifer Brown Banks
This Distance
an you touch me from over there? let my arms reach & hold you as long as this thought can keep our hope alive when I need to feel your presence even at this distance you're near & your love.
(C) 1992 Henry L. Jones Excerpted from "Tell Me No Lies"
LOVE POEM
My muse rolled over
in bed
searched for my lips
in the dark
feeling and filling
the moisture between us
we slowly made a poem
afterwards I wrote it
she slept.
(C) 2008 Henry L. Jones
Commenting is not available in this channel entry.