Educational Program: The Nuts and Bolts of Getting Published, April 20, 2019

GET YOUR TICKET NOW for our next educational event: The Nuts and Bolts of Getting Published
April 20, 2019
Columbia College College
600 S. Michigan Ave.
9:30 am - 12:30 pm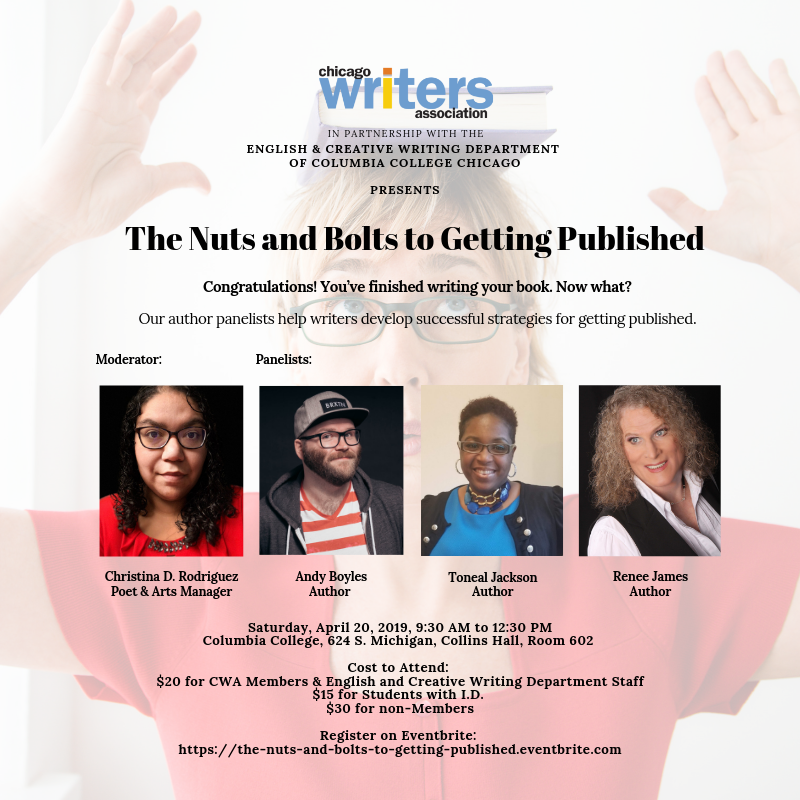 Congratulations! You've finished writing your book. Now what?
Do you try and find a literary agent?
Where can you submit your manuscript to publishers "over the transom"?
How do you research agents or publishers that are a good match for your book?
What are the pros and cons of self-publishing vs. having a "boutique" publisher or mid-sized publisher vs. landing one of the "big five" trade book publishers?
These questions and many more will be answered by our author panelists to help writers develop successful strategies for getting published.
Panelists:
Andy Boyles, author of Adulthood for Beginners: All The Life Secrets Nobody Bothered To Tell You, will share his experiences about being published by a "big five" trade book publisher
Renee James, author of of three mystery/thriller novels: Coming Out Can Be Murder, A Kind of Justice and Seven Suspects, will discuss being published by a mid-sized publisher
Toneal Jackson, Author of more than 10 books across several genres and founder of Artists Promoting Success will discuss the highs and lows of self-publishing
Moderator:
Christina Rodriquez, poet, blogger, entrepreneur and CWA board member