CWA's Literary Bus Tour
Join us for this inaugural event, a literary bus tour of Chicago's North Side on Saturday, January 28. Purchase tickets now through Eventbrite (Members $10; Non-Members $20; lunch included). Don't wait, seats are limited! Buy Now! Tour includes these iconic stops: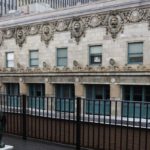 The Cliff Dwellers Club, 220 S. Michigan Ave., 22nd floor, atop the Borg-Warner Building at 200 S. Michigan Ave., one of the most spectacular views in the city looking over the lakefront campus. Founded by author Hamlin Garland in 1907, the name of the club is said to be based on the novel The Cliff Dwellers by Henry B. Fuller. Notable members have included Louis Sullivan, Daniel Burnham, Frank Lloyd Wright, Carl Sandburg, Roger Ebert, Stuart Dybek and Scott Turow, among others. The tour stop features photo opportunities and a walk through the club's small library.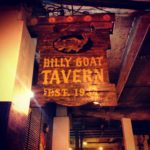 Billy Goat Tavern, 430 N. Michigan Ave., lower level. Legendary Chicago newspaper columnist Mike Royko was a regular, as have been many other of the city's journalistic legends, including Studs Terkel, Irv Kupcinet and Rick Kogan. Sam Sianis, owner of the Billy Goat, will talk to people on the tour and show everyone Royko's regular spot at the bar, part of what is now called "Wise Guys Corner." The tour stop includes lunch featuring the famous Billy Goat "cheezeborger". Oz Park, Lincoln Park (Lincoln and Webster), named after L. Frank Baum, the author of The Wonderful Wizard of Oz. Park sculptures include characters from the book. Nelson Algren's apartment, 1958 W. Evergreen, Wicker Park. Algren won the 1950 National Book Award for his novel The Man with the Golden Arm about a drug addict hustling at the intersection of Division Street and Milwaukee Avenue. *All ticket sales are final. No refunds will be given. In the event of inclement weather that makes travel hazardous, the bus tour will be rescheduled to another date.